| | |
| --- | --- |
| Project title | The new MSME economy: Post-pandemic drivers for growth report |
| Role | Lead staffer for the ABAC MSME & Inclusiveness Working Group |
| Timeline | January – November 2022 |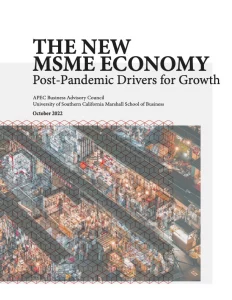 A collaborative effort between the ABAC MSME & Inclusiveness Working Group and the University of Southern California Marshall School of Business, this report present a new post-pandemic comparative APEC MSME economy scorecard. The scorecard and this report are a synthesis of over 60 interviews with MSME thought leaders across the 21 APEC economies, analysis of a detailed APEC MSME questionnaire (856 responses), and an extensive literature review of post-pandemic MSME research and rankings. Its intended purpose is to stimulate active discussion and to generate urgency and action to improve MSME resilience and competitiveness in the new MSME economy.