Without adequate women's representation in the halls of power, Malaysia risks running a democratic deficit. Catch analyst Lee Min Hui on EP03 of our #TalkingPolicy podcast, where she discusses the true cost of excluding women from office. 
Transcribed by Lee Min Hui on 10 November 2022
Click here for the full transcript
There are about 945 candidates running for GE15 but only 127 of them women. That means women make up only 13% of all candidates.  
[Intro music plays]  
[You are listening to #Talkingpolicy, an ISIS Malaysia podcast] 
In the last elections, it was 10%. So there has been a slight increase, but is it enough? Well, women make up 50% or half the electorate in Malaysia – so it's clear that men are disproportionately represented in politics. Ahead of GE15, we need to ask – where are the women in policymaking? 
Malaysia's commitment to women's representation tends to stop at politics. There are many policy initiatives to empower women economically. In terms of education, women outnumber men across all levels and also record better educational attainment. Malaysia has also surpassed its target of 30% of women's representation in senior leadership positions across companies and organisations.  
But not in politics. This target and focus on women's empowerment are both missing. Without mandated representation, parties don't seem to be taking women's representation seriously. Currently, among the coalitions, Pakatan Harapan is fielding the highest number of women at 18.2% with Perikatan Nasional coming in last at 9.2%. In terms of race, at least 70% are Malay women and 20% Chinese. Indian women make up only less than 2% while 'dan lain-lain' are the remaining 4%. 
Now, this is an issue because parties act as gatekeepers into politics and are the major source of support for candidates. They determine a candidate's financing and institutional resources for campaigning. Unfortunately, parties are dealing with pervasive gender stereotypes and pragmatic bias. Support is withheld for those deemed likely to be unsuccessful, which means they won't take a chance with lesser-known women candidates.  
Women themselves don't run for office due to a gender gap in political ambition. This is often the result of care obligations and a male-dominated political landscape. There's also a general perception that they won't succeed, compounded by very little encouragement for recruitment into politics. At the end of the day, the playing field is not equal. The odds are stacked against women in politics. 
[Intro music plays] 
So, we know that too few women are running for office or being fielded.  
But why is it important that they run? Without women's representation, countries risk running a democratic deficit. That also means that policies won't include women's views and experiences. Policies then become non-inclusive and in a country like Malaysia, the impacts could be dire. The pandemic is a good example. Younger women suffered higher rates of job losses simply because they held precarious positions in the economy with poor job security.  
In Malaysia, women are seen as an instrumental tool towards better economic growth and productivity. This is why there are so many initiatives to improve women's labour force participation. The manifestos of the major coalitions reflect this view. All focus on the care economy and most offer initiatives to support women returning to work. But what's missing are proposals that enhance women's collective agency, bargaining power and representation at the national level.  
This is why we need gender quotas in policymaking – to rectify women's underrepresentation and normalise women taking up these leadership roles. When it comes to women's representation, we maintain a vicious cycle when few women are in prominent decision-making roles. Future policy action can simply mandate all parties to adopt the 30% target of women in leadership roles, and also apply this to Parliamentary seats. This means 66 constituencies out of 222 need to be led by women.  More ambitiously we can aim for full equality of 50%.  
It is important to note that very few countries have equal representation in parliaments.  More women in politics will help Malaysia improve its ranking in the global gender gap index. Malaysia is actually a laggard in Southeast Asia when it comes to women's political representation, falling behind comparators in the region. The next step is to adopt a comprehensive national gender mainstreaming framework and strategy where we design policies that are nuanced, inclusive and cater to all.  
As we gear up for the General Elections, now is a good opportunity to think of how inclusive Malaysia's political landscape can be with more women from all races and backgrounds. Malaysia, for all its diversity, fails to show that in its political representation. 
[Outro music plays] 
[ISIS Malaysia is an autonomous research organisation, focusing on foreign policy, economics and nation-building, innovation and environmental studies. For more information, visit us at www.isis.org.my] 
Article
Progress comes when more women are elected to power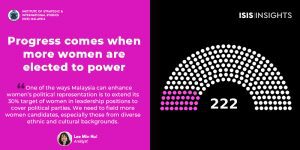 WOMEN make up about half of the Malaysian population but only 15% of parliamentarians. As we celebrate another International Women's Day on 8 March under the shadow of the Covid-19 pandemic – a crisis that has widened existing gender gaps – it has never been more urgent to consider Malaysia's commitment to empowering women in politics.