Lee Min Hui was quoted by channelnewsasia's Darrelle Ng and Pamella Lim on 10 November 2022
Opportunity, stability and accountability are the top issues concerning youth voters in Malaysia ahead of the Nov 19 general election.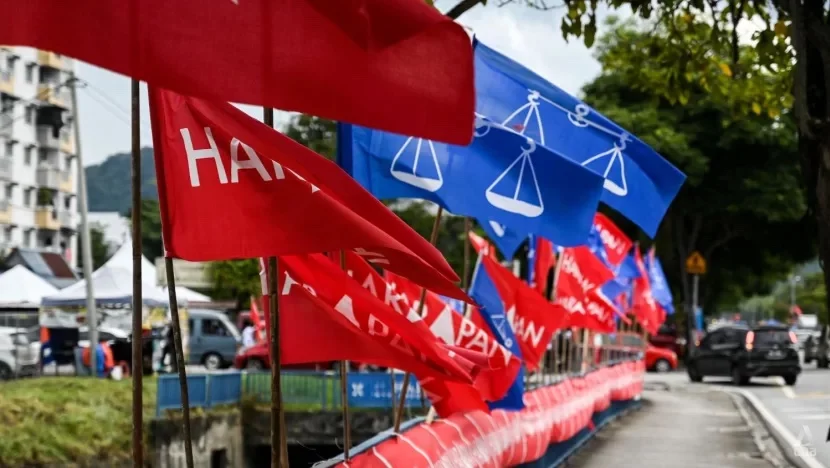 KUALA LUMPUR: Self-taught barber Muhammad Hazem developed a passion for hairstyling when he was just 15, by watching YouTube videos to learn about the trade.
Today, the 20-year-old has big dreams to set up a school for aspiring barbers – something he did not have access to when he was starting out.
With a lack of opportunities and support in Malaysia, however, Mr Muhammad said he will have to leave the country to learn and practise overseas.
"I want to prove that barbers can achieve much more out there. For the sake of my own future and to improve my skills, I will have to go abroad," he said.
Like Mr Muhammad, many young Malaysians are in search of better opportunities abroad, with about 2 million Malaysians residing overseas.
Kuala Lumpur-based EMIR Research, which published a study on Malaysia's diasporas, said the country has seen its brain drain grow rapidly, with an increasing number of young Malaysians seeking to leave.
The independent think tank called the phenomenon "voting with the feet" and said that policymaking and governance processes need to change to stop the bleeding.
But not all youth want nor have the means to seek greener pastures abroad. Those who are staying are determined to fight for a better future and have their say through the ballot box.
Malaysia's upcoming 15th general election on Nov 19 will see, for the first time, 18- to 20-year-olds cast their ballots, after the minimum voting age was lowered in 2019 from 21 to 18.
The group for those aged between 26 and 40 accounts for at least half of Malaysia's working population, and forms the largest voting bloc in the nation of 32 million.
Experts say that opportunity, stability and accountability are the top concerns among youth voters. How the parties approach these topics will be crucial to how young Malaysians will vote in this election.
MANAGEABLE COST OF LIVING
Multiple surveys have put economic concerns at the top of youth voters' minds, in particular the rising costs of living and home ownership, amid fears of a weak job market, Mr Jason Wee, co-founder of non-profit organisation Architects of Diversity, told CNA's Asia First on Wednesday (Nov 9).
Although the government has said that Malaysia is unlikely to go into a recession or be severely impacted by a global recession, the country's economic growth is expected to remain under pressure.
Rising food and goods prices are causing jitters among young voters, who want to see the government do more to contain inflation and keep quality education and healthcare affordable.
With many looking at young Malaysians as the "kingmakers" of this election, political parties are aware of the livelihood issues concerning the youth and are "erring on the side of caution" in wooing them, including promises of free laptops and subsidised education, said Mr James Chai, visiting fellow from the Malaysian Studies Programme at the ISEAS-Yusof Ishak Institute.
EQUAL OPPORTUNITIES, REGARDLESS OF RACE
Lack of jobs and appreciation for young talents are among the push factors resulting in young Malaysians going abroad, experts said, adding that those staying put want to see more opportunities – equal opportunities – available in the country.
"A lot of young people today are either unemployed, underemployed, or have jobs that, especially if you live in a city, is not enough for you to live on," said Ms Aira Nur Ariana Azhari, manager of the democracy and governance unit at think tank Institute for Democracy and Economic Affairs (IDEAS).
"So I think young people are looking for that security and stability. So that's the problem, I think political parties have a lot to answer to on how to attract young people," she noted.
The topic of equality can be a vote-changer for the youth, who want to see fair treatment for everyone regardless of race or status.
"I'd say I prefer the politicians to give equal opportunities, move towards giving more equal opportunities to everyone regardless of your race or where you're coming from," said 20-year-old Then Khai Yang, who will be voting for the first time.
Young Malaysians are also pushing for more diverse representation in policy-making, said Ms Lee Min Hui, an analyst at the Kuala Lumpur-based Institute of Strategic and International Studies. She added that there are already criticisms and complaints about a lack of women policymakers.
CORRUPTION-FREE, ACCOUNTABLE POLITICIANS
Apart from economic and job stability, youth voters frustrated with politicking and infighting among the country's policymakers also want political stability.
But more than that, installing a corruption-free government is of "overwhelming" importance to them, Mr Chai told CNA's Asia Tonight, adding that 91 per cent of Gen Z voters surveyed see corruption as "never justifiable".
As such, political parties have worked the topic of corruption into their discussions and campaigns.
In particular, Parti Keadilan Rakyat (PKR) candidates' practice of engaging in asset declaration has been largely talked about and well received on Twitter and Facebook, social media platforms frequented by youth voters, said Mr Wee.
Young Malaysians also want elected representatives to walk the talk, and to genuinely understand the community's needs and actively push for change.
"I would like to see them actually go down without any cameras or security officers, go down to the ground, live the lives of everyday working Malaysians and say, 'How can we make this better?'," said first-time voter Carlos Sebastien John, 20.
Sharifah I'Nur Habib Idris, 21, another Malaysian who will be voting for the first time this election, said: "Everything ties back to the values of the individual. Say, for example, they want to end poverty. (But) do they actually believe that people have equal access to healthcare?"
Youth voters also expect those governing the country to be more accessible and relatable to their electorates, to take steps to be transparent in their dealings, and be held accountable for their actions, Ms Lee told CNA's Asia Now.
"The youth want to see from the politicians accountability mechanisms in terms of more evaluation, more reporting, more monitoring," she said, adding that voters are also looking at the impact on the ground, with equality and diversity in mind.
This article was first published on ChannelNewsAsia, 10 November 2022