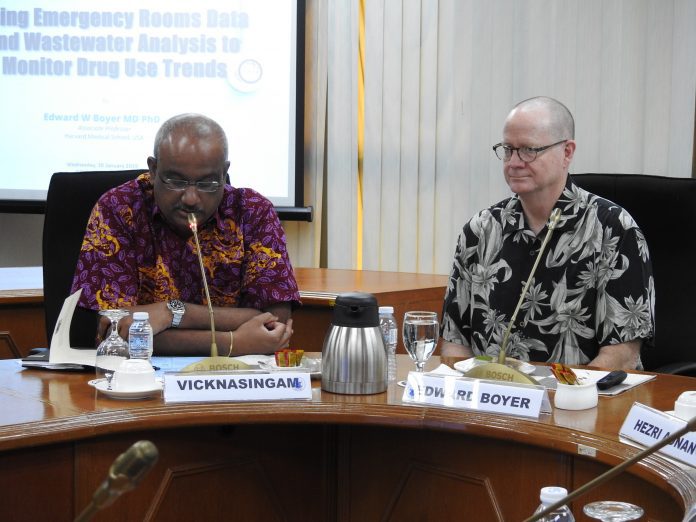 | | |
| --- | --- |
| Date | 30 January 2019, Tuesday |
| Time | 10:00am |
| Venue | Conference Room, ISIS Malaysia |
| Status | By invitation only |
By:
Edward W Boyer MD PhD
Associate Professor
Harvard Medical School, USA
About the Speaker:
Dr. Boyer is Associate Professor at Harvard Medical School. He attended Vanderbilt University before receiving his doctorate in organic chemistry at Columbia University. He completed a NIH postdoctoral fellowship at The Rockefeller University before enrolling at Columbia University College of Physicians and Surgeons. He completed residency training at the Hospital of the University of Pennsylvania before becoming a medical toxicology fellow at Boston Children's Hospital. He joined the faculty at the University of Massachusetts Medical School in 2001. He left that institution in 2016 to develop the research infrastructure of the Brigham and Women's Hospital Department of Emergency Medicine.
Overview:
Dr. Boyer will discuss novel methods for surveillance of drugs of abuse. He will review natural language processing, microfluidic, and combinatorial mathematical methods to conduct surveillance of emerging drug use patterns as well as identify new substances of abuse. He will also discuss confirmatory laboratory testing methods to validate results from virtual surveillance methods.
0930 - 1000
Arrival of guests and registration
1000 - 1005
Welcoming Remarks by
Dr Hezri Adnan
Senior Director (Research)
Institute of Strategic and International Studies (ISIS) Malaysia
1005 - 1045
Moderator
Prof Dr Vicknasingam Balasingam Kasinather
Professor and Director
Centre for Drug Research, USM

Presentation by
Edward W Boyer MD PhD
Associate Professor
Harvard Medical School, USA
1045 - 1130
Question and answer session
1130
End