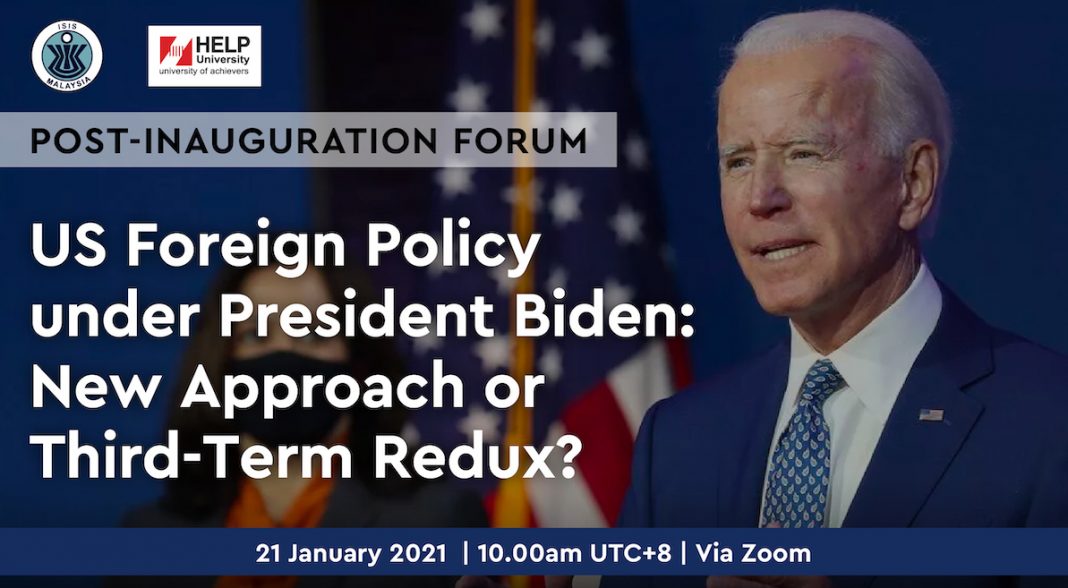 Post-Inauguration Forum
US FOREIGN POLICY UNDER PRESIDENT BIDEN:
NEW APROACH OR THIRD-TERM REDUX?
Joseph R. Biden Jr. has promised a fresh approach on foreign policy after a tumultuous four years under Donald J. Trump. Yet how novel of an approach can the new administration possibly take? The presence of many Obama administration veterans in Biden's foreign policy team raises doubts about how much of the administration's policy will be new and not just a reversion to the Obama years, which produced mixed results. So what are some of the broad strokes of foreign policy that we could see within the first couple of years of this administration? What will be their trade and economic policies, especially as it relates to Asia? How much emphasis will be given towards Southeast Asia and what would be the key markers to look out for? How much will domestic challenges and priorities impact Biden's ambitions and capacity in the international arena?
Moderator:
Professor Dato' Dr Zakaria Ahmad
Deputy Vice-Chancellor (Research),
HELP University; 
Chief Executive Officer, HELP Academy
Speakers:
Ms Elina Noor
Director, Political-Security Affairs;
Deputy Director, Asia Society Policy Institute;
Visiting Fellow, ISIS Malaysia 
Professor Dr William Borges
Professor, American-Canadian Education Department
HELP University
Ambassador Michael W. Michalak
Senior Vice-President and Regional Managing Director
US-ASEAN Business Council
| | |
| --- | --- |
| Date | 21 January 2021 |
| Time | 10:00am (UTC +8) |
| Venue | Via Zoom |