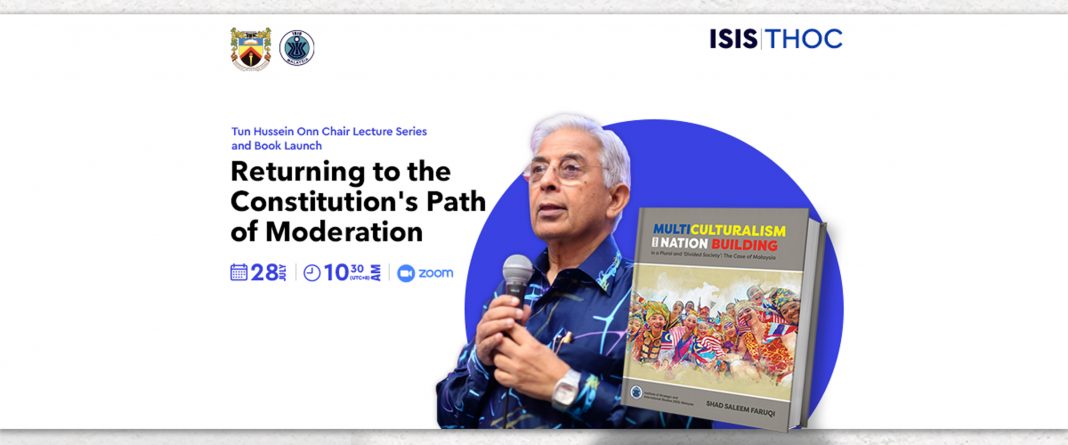 Book Launch
"Multiculturalism and Nation Building in a Plural and 'Divided Society':
The Case of Malaysia
Public Lecture
"Returning to the Constitution's Path of Moderation"
by
Emeritus Professor Datuk Dr Hj Shad Saleem Faruqi
Fourth Holder of the Tun Hussein Onn Chair in International Studies (ISIS) Malaysia
The Constitution, with all its flaws, has survived 64 years. Its spirit is the spirit of shared destiny. It walks the middle path of accommodation, moderation and compassion. We all need to play our role to recapture that spirit of accommodation and restore our image as an exemplar of peaceful intercommunal living.
We invite you to join us for a special session of the Tun Hussein Onn Chair Public Lecture Series with Emeritus Professor Datuk Dr Shad Saleem Faruqi.
The lecture also marks the launch of his monograph, titled "Multiculturalism and Nation Building in a Plural and 'Divided' Society: The Case of Malaysia". This monograph is based on a lecture that was presented on 20 September 2019, with the Sultan of Perak Sultan Nazrin Muizuddin Shah in attendance. Join us to celebrate his achievements.
Speaker
Emeritus Professor Datuk Dr Shad Saleem Faruqi
Fourth Holder of the Tun Hussein Onn Chair in International Studies
Welcoming Remarks by
Mr Herizal Hazri
Chief Executive
Institute of Strategic and International Studies (ISIS) Malaysia
Remarks by
Dato' Mohammed Rhiza Ghazi
Representative of the Late's Tun Hussein Onn's Family
| | |
| --- | --- |
| Date | 28 July 2021 |
| Time | 1030am (UTC+8) via Zoom |