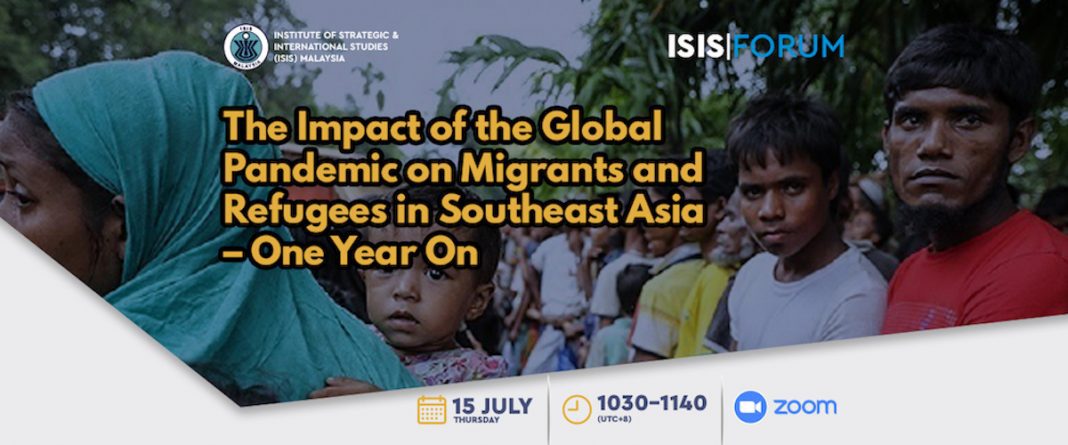 ISIS Forum

on
The Impact of the Global Pandemic on Migrants and
Refugees in Southeast Asia – One Year On
More than a year on, the global pandemic continues to impact the issues driving forced migration, and the challenges faced by refugees and asylum seekers in Southeast Asia.
This includes accentuating existing vulnerabilities that have long been ignored by governments and host communities. In some countries, these groups have been the most vulnerable to the effects of economic hardships and government mandated restrictions, and even crackdowns on irregular migrants.
In what ways has the pandemic affected key refugee communities in Southeast Asia, including in Malaysia? What more could be done by host communities, policymakers and other stakeholders to respond more effectively, specifically with regards to the safety and health of migrants and refugees?
Speakers:
Dr Sriprapha Petcharamesree
Senior lecturer, PhD Programme
The Institute of Human Rights and Peace Studies
Mahidol University Thailand

Ms Kendra Rinas
Chief of Mission
International Organization for Migration (IOM)
Malaysia
Moderator:
Mr Thomas Daniel
Senior Fellow
Foreign Policy and Security Studies (FPSS)
Institute of Strategic and International Studies (ISIS) Malaysia
Co-moderator:
Ms Anis Huszainey
Researcher
Chief Executive's Office
Institute of Strategic and International Studies (ISIS) Malaysia
| | |
| --- | --- |
| Date | 15 July 2021 |
| Time | 1030 – 1140 (UTC+8) |
| Venue | ISIS.Forum (Via Zoom Webinar) |