35th Asia-Pacific Roundtable
5-7 July 2022
Kuala Lumpur Time, UTC+8
The Asia-Pacific Roundtable (APR) is the signature international conference of the Institute of Strategic & International Studies (ISIS) Malaysia.
As one of the region's key Track Two strategic conferences, the APR was postponed for the first time in 2020 because of the Covid-19 pandemic.   
Hosted by ISIS Malaysia, on behalf of the Asean-ISIS Network, a network of leading Southeast Asian policy institutes and think-tanks, it regularly attracts more than 300 thinkers of various backgrounds who engage in lively, frank and constructive conversations on issues impacting on the security, stability, sustainability and prosperity of the Asia-Pacific region.
Sustaining Cooperation Amid Competition
This year, the 35th APR will focus on sustaining cooperation amid competition. It reflects the condition of the region that remains in the throes of strategic and major power competition while stakeholders continue to find ways of cooperation to mitigate the damaging aspects of competition.  
It is also an acknowledgement of the growing importance of climate and sustainability related challenges in the region that will impact existing strategic security challenges and equations.  
Remarks and keynote video
Day 1 – Tuesday, 5 July 2022
(All times in UTC+8)
Day 2 – Wednesday, 6 July 2022
(All times in UTC+8)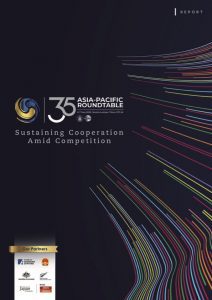 Download the 35th APR Conference Report here
Day 3 – Thursday, 7 July 2022
(All times in UTC+8)
Please contact Atikah Ishak (atikah@isis.org.my) for information on sponsoring the 35th Asia-Pacific Roundtable.