Cooperation between universities could unlock R&D potential, curricula reform, tech sharing and transfer
By Nomesh Bolia
INDIA and Malaysia share centuries-old ties rooted in culture, people-to-people links and trade. Historically, Malaysia has been a part of India's extended neighbourhood and contemporarily, a key component of India's Act East Policy. Malaysia hosts the third largest persons of Indian origin community in the world after the United States and United Arab Emirates. India established diplomatic relations with Malaysia in 1957 and 2022 marked the 65th anniversary of their diplomatic relationship.
A deeper education partnership between India and Malaysia is crucial for fostering collaboration and building bonds between the two countries. While cooperation in social, cultural and economic relations has received much attention, relatively little progress has been observed in higher education.
Some of the agreements and scholarships on education include a memorandum of understanding (MoU) on cooperation in higher education, signed in January 2010; MoU on cooperation in the field of traditional systems of medicine 2010; MoU on mutual recognition of equivalence of educational qualifications 2017; Indian technical and economic cooperation programme; AYUSH scholarship scheme for Malaysia to pursue courses in Ayurveda, yoga and naturopathy, unani, siddha and homeopathy in Indian institutions; and scholarships and education exchange programme.
The Indian scholarship and trust fund provides a small amount of one-time financial assistance to Malaysian students of Indian origin. However, the full potential of these programmes is not being realised because of a lack of awareness about the opportunities in both countries.
Getting information out
Research collaborations between India and Malaysia include participation from top-tier institutions, such as Indian Institute of Technology (IIT) Delhi, IIT Bombay, IIT BHU Varanasi, Aligarh Muslim University, Vellore Institute of Technology, Amity University, Universiti Malaya, Universiti Teknologi Malaysia, Universiti Sains Malaysia (USM) and Universiti Malaysia Pahang. India's National Institute of Ayurveda has collaborated with Universiti Tunku Abdul Rahman to enhance cooperation in research and popularisation of Ayurvedic medicine.
Similarly, Malaysian twinning programmes with Indian educational institutions include Melaka-Manipal Medical College, Penang International Dental College, USM-Karnataka Lingayat Education, Belgaum and Management & Science University's International Medical School Bangalore campus. Still, the number of collaborations and twinning programmes among the institutions of higher learning in both countries remained relatively low compared with other countries. Inadequate information about universities and funding opportunities is a potential barrier to university-university collaborations and institutional engagements.
Higher education is a rich cultural and scientific asset enabling personal development and promoting economic, technological and social change. All of India's key scientific and technological programmes, such as those in space, start-ups and for-profit organisations as well as institutions in almost every sector, have benefitted from the higher education ecosystem. The sector has supplied some of the world's best talent. From leading global CEOs to famous scientists, from young entrepreneurs to offbeat performers, all are a product of the Indian education system.
The higher education institutions encourage industry engagement for the promotion of research and development, curricula reform, people exchange and technology sharing and transfer. There have been many successful collaborations between universities, industry partners and start-ups.
World-class education
India has a long and glorious history in the field of higher education. Education there is comparable to the best institutions in the world and costs much less compared with other developed countries. Presently, about 38.5 million students are enrolled in 1,043 universities (including institutions of national importance), 44,343 colleges and 11,779 diploma-level institutions in India.
The IITs are known nationally and internationally for excellence in technical education, innovation, entrepreneurship and research. Several engineering programmes, such as petroleum engineering, mineral and mining engineering, electrical and electronic engineering, mechanical engineering, computer science and civil engineering, have made the top 100 list in the QS rankings. India is the third largest hub and IITs, taken together, the fourth largest producer of unicorns in the world.
India and Malaysia are emerging destinations for international students. Between 2019 and 2020, India hosted 49,348 students from 168 countries. India gets maximum students from Nepal (28.1%) followed by Afghanistan (9.1%), Bangladesh (4.6%), Bhutan (3.8%), the United States (3.3%), Nigeria (3.1%), Yemen (2.9%) and Malaysia (2.7%). In 2018, 81,953 international students were enrolled in Malaysia, with most coming from China (14.3%), Indonesia (10.3%), Bangladesh (8.4%), Yemen (6.9%), Nigeria (5.7%), Pakistan (5.6%) and India (3.4%).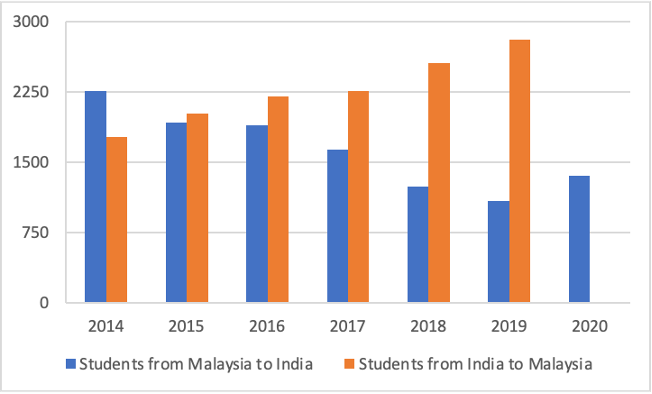 While Malaysia continues to build its international enrolment and aims to host 250,000 international students by 2025, India has set a goal to attract 200,000 international students – more than four times the current total – by 2023.
According to Unesco Institute for Statistics, the percentage of Indian students in Malaysia constitutes a mere 3.4%, and only 2.7% of Malaysian students study in India. Therefore, there is ample scope for both countries to increase student intake from each other. Intent and efforts from both governments in this sector exist and existing programmes need to be leveraged on to enhance cooperation. Efforts, such as identifying potential barriers, raising awareness about well-performing universities, opportunities and funding, and allowing more collaboration between higher education and start-up ecosystems in both countries, could lead to expanded educational partnerships.
Science, IT areas of strength
Strengthening India-Malaysia cooperation in science and technology will spur economic expansion and enable the creation of novel solutions to common problems. Many universities in India and Malaysia are highly ranked worldwide and cooperation can spur growth.
India has made great strides in several advanced technology sectors. Space is a prime example. India is positioned as one of the top five nations in space exploration. Internationally, India is viewed as an emerging space power, capable of achieving its goals in a cost-effective manner. Several countries look to India for assistance in building up their capabilities to derive benefits from space technology.
India has signed space cooperation documents with agencies of 60 countries, including six Asean member states – Brunei, Indonesia, Myanmar, Singapore, Thailand and Vietnam. Malaysia is fully committed to driving the growth of its space sector and aspires to be one of the aerospace nations by 2030. Clearly, India and Malaysia can explore options for space cooperation. Both countries should encourage educational collaboration through networks of universities to support research and development, education and entrepreneurship in space-related fields.
The doctoral fellowship in India for Asean (DIA) funds scholars to pursue PhDs at prestigious IITs. It is the single largest capacity development initiative of India for non-citizens. The DIA programme attracts outstanding Asean students to carry out research at IITs. Faculty members from Asean universities and stakeholders from other institutions, including government and non-profit sectors, are welcome to explore collaborations and joint research projects with a part of the funding coming from DIA. Besides strengthening the long-standing ties, this programme has potential for cooperation in education and people-people exchange between India and Asean.
There is significant scope to expand higher education cooperation and science and technology collaborations between India and Malaysia by developing an expanded, bilateral inter-institutional mechanism, thus facilitating interaction among academia, research laboratories and industry in both countries. There are various areas where India and Malaysia can develop synergies, such as in space science, disaster mitigation, climate change, advanced materials, petroleum and global health.
Prof Nomesh Bolia is based at the Indian Institute of Technology (IIT) Delhi and is national coordinator of the doctoral fellowship in India for Asean (DIA)