Shahriman Lockman was quoted in South China Morning Post.
The US Indo-Pacific command is planning a near-month-long series of global exercises with major allies including Japan, Britain and Australia
Meanwhile China will conduct exercises in the disputed South China Sea as its seeks to assert its claim to the waters
Article by Sarah Zheng, 7 August 2021
Some of the world's most advanced warships, such as aircraft carriers, and submarines – and possibly China's carrier killer missiles – will be just some of the firepower deployed in the western Pacific Ocean this month as the United States, China, India, Britain and other nations run mass naval exercises in the area. 
The US wants to bolster support among its allies and improve capability to carry out combined operations in the region, while China wants to assert its presence in the disputed South China Sea and Taiwan Strait. 
Washington maintains that it is trying to safeguard regional security by pushing back against Chinese claims, but Beijing says sending warships to the disputed waters is a provocation. 
Shahriman Lockman, an analyst at the Institute of Strategic and International Studies in Malaysia, said: "Both the US and China have house-trained each other to anticipate their presence in the South China Sea. As long as both sides remain professional, the risk of conflict can be kept under control. 
"Each side is intent on signalling their resolve to maintain their presence in the area. This can sometimes be a double-edged sword for the Southeast Asian claimants as tensions could occasionally flare, but the Southeast Asian claimants wouldn't begrudge this very much if the presence of one keeps the other honest." 
Collin Koh, a research fellow from the S Rajaratnam School of International Studies at Singapore's Nanyang Technological University, said the flurry of military activity in the region was "unmistakably conspicuous" but low-risk. 
"This recent uptick in activities seems unprecedented, going by the intensity within a short span of time," he said. "The rival parties would conduct exercises as a form of posturing and counter-posturing to signal political sentiments, but that won't unduly mean crossing the threshold to threaten or use force." 
The rival military forces may keep close tabs on each other's activities, but their operations are generally "conducted at a safe and professional distance", he said. 
The month began with the conclusion of the Talisman Sabre naval exercises last Sunday off the coast of Australia, involving exercises such as amphibious beach landings, live-fire activities, and the use of space command to target satellite communications. 
Overall, the exercise involved 17,000 military personnel from seven countries, including the US, Britain, Canada, New Zealand, Japan and South Korea. 
The US Indo-Pacific Command is also conducting a series of large-scale global exercises that started on Monday and will run until August 27. 
The exercises, which span 17 time zones, are billed as the first of their kind in more than four decades and will also involve Australian, British and Japanese troops in an effort "improve interoperability, trust, and shared understanding to better address security challenges".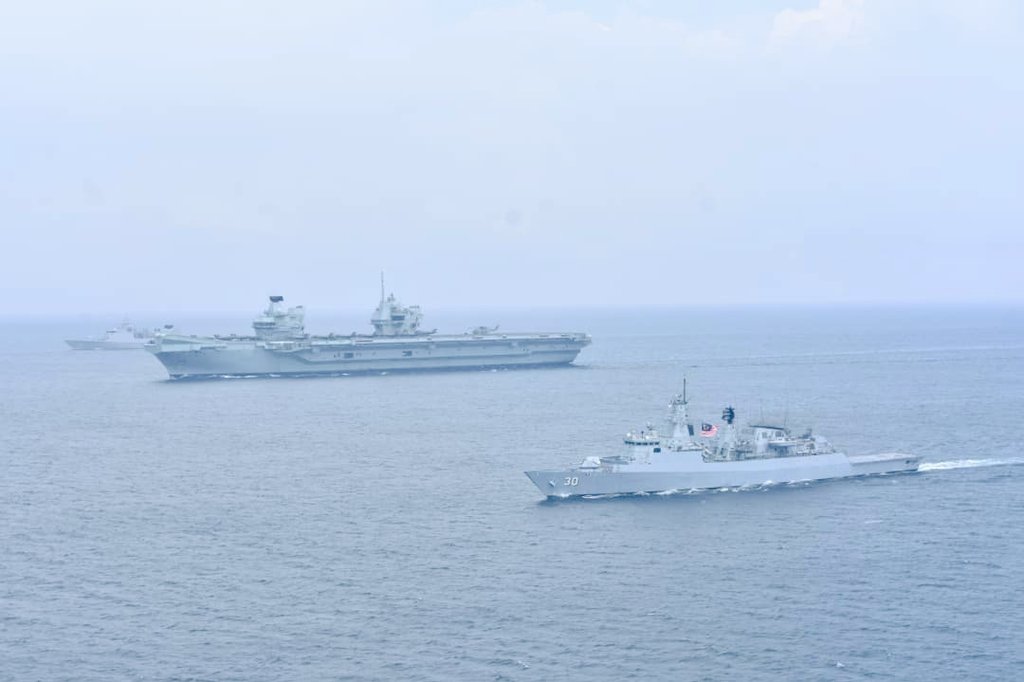 Meanwhile, the People's Liberation Army will also be conducting exercises in the South China Sea that run from Saturday to Tuesday, according to a notice by China's Maritime Safety Administration. 
Details of the exercise have not been disclosed, but military analysts said the area involved was big enough for the PLA Rocket Force to be involved, possibly to test its anti-ship missiles. 
State-run tabloid Global Times said in an editorial on Thursday that China's exercises were "a response to the US military's Indo-Pacific exercise" and said Washington had "miscalculated" by trying to "awe China and Russia by flexing its muscles". 
India is also sending four warships to the South China Sea for a two-month deployment intended to underscore their "operational reach, peaceful presence and solidarity with friendly countries". 
The ships will take part in bilateral exercises with Vietnam, the Philippines, Singapore and Indonesia, before the annual Malabar exercise with its fellow Quad members – the US, Australia and Japan. 
Meanwhile, the German warship Bayern set off for the Pacific this week on a voyage that will see it visit Guam, Japan, South Korea, Vietnam and Singapore. 
It is expected to cross the disputed South China Sea on its return voyage in December, but a request to pay a port visit to Shanghai was rebuffed as Beijing asked Germany to clarify its intentions. 
Koh, from Nanyang Technological University, said that for the US and its allies, joint training activities helped build interoperability between their forces. 
"At Talisman Sabre, navies that don't usually get together all the time had the chance to train together in complex maritime-air scenarios, for example the Australians, Canadians, Japanese and Koreans conducted joint anti-air and anti-submarine warfare training," he said. 
For China, its large-scale PLA exercises are "part and parcel of the recent years' efforts to enhance 'realistic' combat training", he said. 
There have been growing concerns that the South China Sea may be a flashpoint between the US and China as their strategic rivalry heats up. 
Brad Glosserman, visiting professor at the Centre for Rule Making Strategies at Tama University in Japan, said the "huge number of vessels in the air and in the water very much increases the chances of an accident". 
He said the US exercises sent the message that it was representing a "coalition of forces and is not alone in its defence of the regional status quo". 
This article was first published in South China Morning Post on 7 August 2021.