Juita Mohamad was quoted in Fee Malaysia Today article.
by Nicholas Chung, 27 April 2021
PETALING JAYA: The government's RM20 billion Pemerkasa economic programme offers a holistic three-pronged support for the nation, says an economist.
Juita Mohamad of the think tank Institute of Strategic and International Studies (Isis) said Pemerkasa was targeted to preserve the people's welfare, support businesses and micro-, small- and medium-sized enterprises (MSMEs) while strengthening the economy.
She told FMT that measures like one-off handouts for vulnerable groups, increased allowances for frontliners and the extension of the wage subsidy programme helped soften the impact of the pandemic and movement restrictions.
"Making more disposable income available to the vulnerable groups can help households who have lost their livelihoods and stimulate consumption of essential goods for businesses on the ground in the immediate term.
"But in terms of coverage, I believe it can be improved tremendously," she said, calling for a more resilient social safety net to be developed for Malaysians.
She said this was particularly needed with Malaysia set to become an ageing society in the next five years and with 70% of Employees Provident Fund members aged 54 having less than RM50,000 in their savings.
"Data has shown that Malaysians would need around US$300,000 to retire comfortably. So there are future costs to the measures introduced today," she said, while acknowledging that short-term measures were crucial due to Covid-19.
In terms of revitalising the economy, she said Pemerkasa allowed a continuation of measures such as wage subsidies, special grants for MSMEs and micro-credit programmes, with a special focus on the tourism industry and national vaccination programme.
Pemerkasa is the Perikatan Nasional government's sixth aid package, after the Prihatin stimulus package, Prihatin SME+, Penjana, Kita Prihatin and Permai, as Putrajaya continues to implement measures to help the nation tide over the times.
It is part of the government's 6R economic recovery plan to boost the economy, with the fifth strategy being "revitalising" the economy.
With RM11 billion in direct fiscal injection, it sees the Covid-19 immunisation programme's budget boosted by RM2 billion, special Prihatin grants of RM1,000 extended for the third time, and the wage subsidy programme continued for three more months.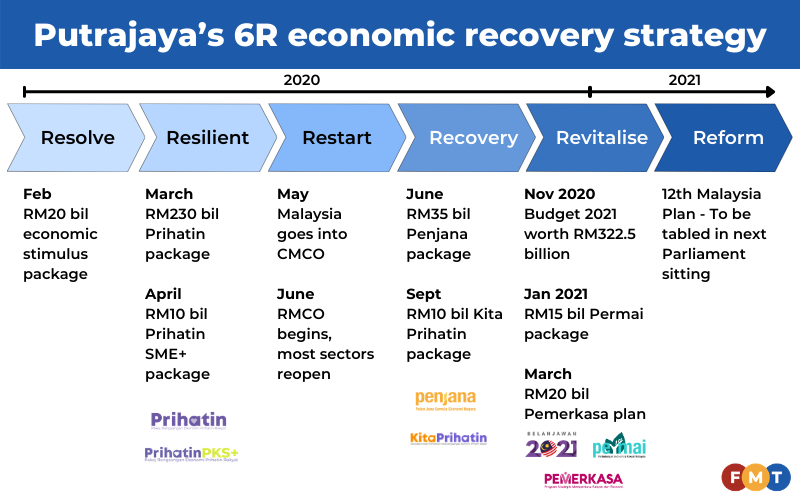 Barjoyai Bardai of Universiti Tun Abdul Razak said microbusinesses have been progressing very well amid the pandemic thanks to Putrajaya's help, as they embrace the Internet of Things (IoT) and available gig economy facilities.
On top of the loans being offered to them, he told FMT that Putrajaya could boost these entrepreneurs by deploying volunteers to guide them through the process of making the jump to digitalisation.
He said Malaysia needed all the programmes it could get, adding that initiatives like Pemerkasa served as important catalysts that push the economy forward.
"RM20 billion is no small amount of money, so we need to plan it well and make it as effective as possible," he said, also acknowledging the government's need to take care of the people's welfare.
He noted that the government had experimented with targeting certain measures for specific groups, citing the RM50 e-wallet credit and RM2 billion to upskill youths under the Penjana package.
"If these initiatives were successful, the government could expand these and make them full-fledged programmes," he said.
This article was first published in Fee Malaysia Today on 27 April 2021.