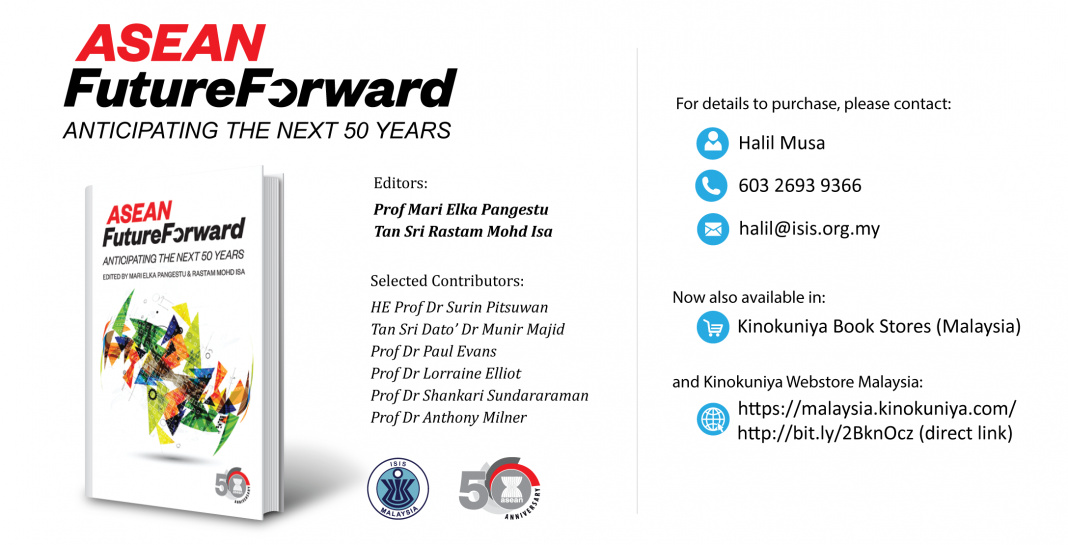 Book Launch "ASEAN FutureForward Anticipating the Next 50 Years" and Panel Discussion on VISUALISING ASEAN'S NEXT 50 YEARS
ISIS Malaysia launched its latest book publication entitled "ASEAN FutureForward Anticipating the Next 50 Years". This book is a compilation of essays by various authors from both within and beyond Southeast Asia, on ASEAN's future in a rapidly changing landscape over the next five decades. The book is concerned with issues that could dramatically change the political, economic and social landscape both regionally and globally. As an initiative by ISIS Malaysia, this book received the full support of the ASEAN Secretariat and the Ministry of Foreign Affairs Malaysia.
Tan Sri Rastam Mohd Isa gave the welcoming remarks. HRH Paduka Seri Sultan Nazrin Muizzuddin Shah Ibni Almarhum Sultan Azlan Muhibbuddin Shah Al-Maghfur-Lah, the Sultan of Perak Darul Ridzuan and Royal Fellow of ISIS Malaysia delivered the Royal Address and launched the book.
Following that, there was a panel discussion entitled Visualising ASEAN's Next 50 Years. The panel consisted of Dato' Steven Wong as moderator as well as Dato' Sri Nazir Razak, Prof Koh Kheng Lian, Dr Aries Arugay and Ms Dwintha Maya Kartika as speakers. As a reflection of the book, the panel discussion allowed each speaker to elaborate on his/her piece in the book as well as to engage the wider audience in discussing issues that will develop and emerge in the next 50 years.
Date: 28 August 2017
Venue : Sheraton Imperial Kuala Lumpur
The book is available for sale in Kinokuniya Webstore Malaysia