Titles available range from regional economic reforms to issues governed by the law of the seas.
Latest Publications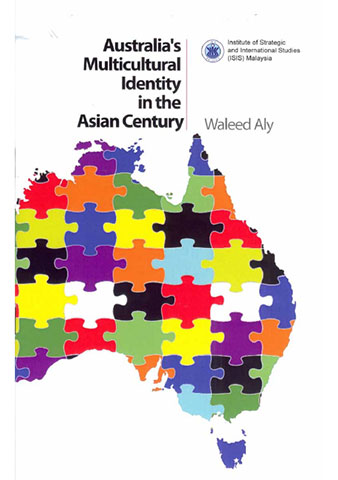 Australia's Multicultural Identity in the Asian Century – Waleed Aly. Kuala Lumpur: ISIS Malaysia, 2014.
This monograph is based on a talk by the author, on 'Australia's Multicultural Identity in the Asian Century', at an ISIS International Affairs Forum on 30 April 2013, in Kuala Lumpur.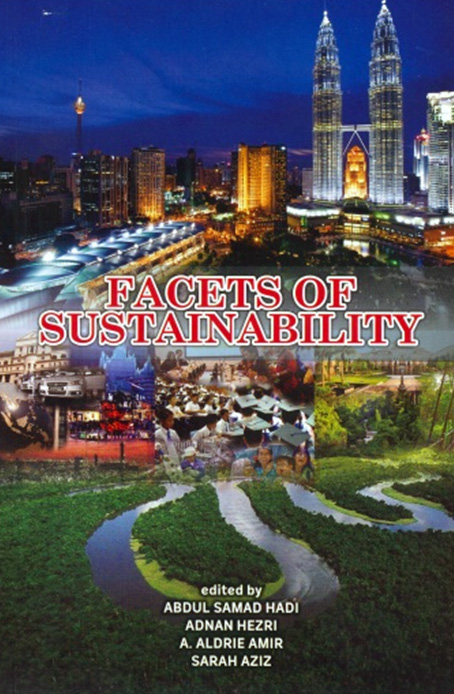 Edited by Dr Hezri Adnan, ISIS Malaysia in collaboration with Abdul Samad Hadi, Aldrie Amir, and Sarah Aziz from Universiti Kebangsaan Malaysia. Published in Kuala Lumpur by UKM Press.
251 pages (2013) ISBN 978-967-412-165-5
Available from Penerbit UKM at http://www.ukm.my/penerbit
As a development framework, sustainability offers a most promising choice of path to development for it gives a development matrix that balances the triple bottom line – the environment, the society, and the economics. More importantly, the pillars are to be viewed within broader spaces of humanity. In seventeen chapters, this book presents assorted views and insights on the various dimensions of sustainable development in Malaysia and beyond. The chapters draw on a range of disciplinary perspectives encompassing human geography, environmental chemistry, anthropology, development economics, law, urban studies and planning, forestry, public policy, geology and last but not least, ecology. Together the writings celebrate the intellectual acceptance of multi-disciplinarity as an important if not the only approach to address the complexity of sustainability both in theory and in practice. To implement the rich blend of ideas presented in this volume, the triple bottom line needs to be governed so that sustainability as a process is allowed to progress.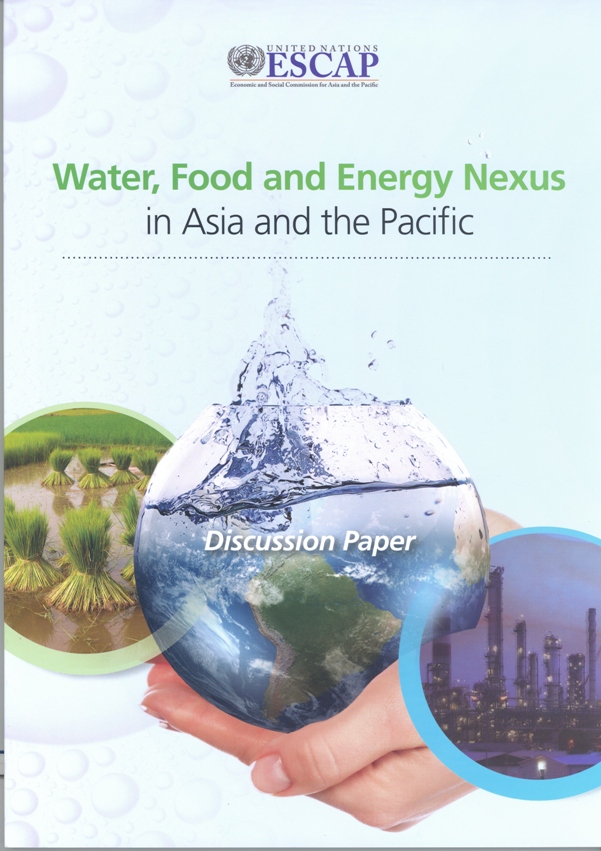 Dr Hezri Adnan prepared a Discussion Paper for the United Nations Economic and Social Commission for Asia and the Pacific (UNESCAP) entitled Water, Food and Energy Nexus in Asia and the Pacific. The full report is available at: Click here


Tasik Chini: A Lake at the Edge of Ecological Collapse
By Adnan Hezri and Henry Chan. An Asian Public Intellectuals Fellowship Publication. Kuala Lumpur: The Malaysian Asian Public Intellectuals (API) Regional Project Working Group, 2012.
For copies: kindly contact Dr Hezri Adnan – hezriadnan@isis.org.my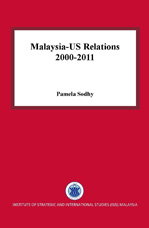 Malaysia-US Relations 2000-2011
Pamela Sodhy. Kuala Lumpur: ISIS Malaysia.
126 pages (2012). E-book
This monograph looks at the present relationship between Malaysia and the United States during a decade-long period, covering the main political, economic, and socio-cultural relations during the prime ministerships in Malaysia, of Dr Mahathir Mohamad, Abdullah Ahmad Badawi, and Najib Tun Razak and the presidencies in the United States, of George Bush and Barack H Obama.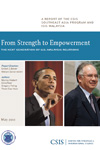 From Strength to Empowerment: The Next Generation of U.S.-Malaysia Relations
A Report of the CSIS Southeast Asia Program and ISIS Malaysia. Washington DC: Center for Strategic and International Studies (CSIS), May 2012.
Media release
Also available here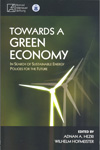 Towards a Green Economy: In Search of Sustainable Energy Policies for the Future
Edited by Adnan A. Hezri and Wilhelm Hofmeister. Published in Singapore by Konrad Adenauer Stiftung and ISIS Malaysia.
175 pages (2012) ISBN 978-981-07-1799-5
RM 40.00 [Out of print]
The transition to sustainable energy systems is still at an embryonic stage. As this energy transition involves hard choices politically, economically, and technologically, countries can benefit from a comparative lesson-drawing across geographical divides. In thirteen chapters, the book entitled "Towards a Green Economy: In Search of Sustainable Energy Policies for the Future" documents the vagaries of problem framing and policy responses by nine countries, all of which are guided by recurrent themes of energy transition, policy choices and green economy. The book's analytical scope goes well beyond the commonly addressed structural issue in energy policy to encompass innovation in processes, institutions and new policy instruments for sustainable energy systems. Chapters 3 to 4 demonstrate the struggles of major energy consumers such as United States, China, India and Brazil in switching to cleaner energy sources. Chapters 7 and 8 concentrate on the cases of Malaysia and Laos. These two Southeast Asian countries are currently at different stages of economic development but share the common trait of a rising energy demand and associated social issues. The last four chapters (9-12) of the book present innovative energy policies by pioneering states such as France, Germany and Australia. Evidently from all chapters, there is no one-size-fits-all policy The subtitle of the book—in search of sustainable energy policies for the future— reflects the tentative nature of policy experiments undertaken so far.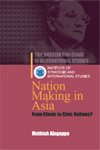 Nation Making in Asia: From Ethnic to Civic Nations? By Muthiah Alagappa.
This is the Inaugural Lecture at the Launch of the Tun Hussein Onn Chair in International Studies, 28 March 2012.

The Ethical Dimension of Sustainability in Higher Education: Applying the Principles of the Earth Charter in Malaysia & Beyond
Co-authored by Peter Blaze Corcoran, Adnan A Hezri (ISIS Malaysia), Brandon P Hullingshead, Kanayathu Chacko Koshy, Joseph P Weakland and Zakri Abdul Hamid.
Policy Discussion Series No. 5/2012. Published by Center for Environmental and Sustainability Education at Florida Gulf Coast University and Centre for Global Sustainability Studies at Universiti Sains Malaysia, 2012.
Available: Centre for Global Sustainability Studies, Universiti Sains Malaysia, I 1 800, Penang, Malaysia or
Center for Environmental and Sustainability Education, Florida Gulf Coast University, 10501 FGCU Boulevard South Fort Myerr Florida 33965-6565 USA.

Malaysia: Policies & Issues In Economic Development
693 pp. (2011)
RM80.00 / USD30.00
ISBN 978-967-947-308-7
The book, consisting of more than 20 chapters, covers four main themes: Macroeconomic Management, Economic Growth and Transformation, Management of Growth and Equity, and Enabling Environment and Institutions for Development. The authors are drawn from various sectors, with wide-ranging and rich experience in academia, the public sector and the private sector.
Compared to previous studies which focused mainly on the development process, this book takes a different approach to Malaysian economic development. It traces landmark achievements, and present challenges and pitfalls faced by the nation over the last five decades after Independence. More importantly, it pays tribute to the role and contributions of various players and protagonists in this development process.
Available at all local book shops or please email: publications@isis.org.my

The Asia Pacific: Steering Between Crisis and Opportunity (23rd APR)
138 pp (2010)
Edited by Mohamed Jawhar Hassan
RM 50.00
ISBN – 967-947-307-0
This publication carries some of the thought-provoking papers presented at the 23rd Asia Pacific Roundtable, held in June 2009, in Kuala Lumpur. The topics range from the prospects for peace arising from the changes in leadership in Washington, Tokyo and Taipei, to the building of a people-oriented community in Asean.

The Global Financial Crisis and the Malaysia Economy
Written by Dato' Dr. Mahani Zainal Abidin, ISIS Malaysia and Professor Dr. Rajah Rasiah, Dean, Faculty of Economics and Administration, Universiti Malaya.
Published by UNDP 2009
Electronic format published in November 2009
The Asia Pacific Roundtable Series: selected papers from the 22nd Asia Pacific Roundtable

THE ASEAN REGIONAL FORUM – The Road Ahead
By Ralph A. Cossa and Takeshi Yuzawa
34 pages (2009) ISBN 967-947-301-8
RM 10.00

SECURITY AND STABILITY IN THE SOUTH PACIFIC Issues and Responses
By Stewart Firth
16 pages (2009) ISBN 967-947-302-5
RM 8.00

RE-EMERGENCE OF RUSSIA Implications for the Asia Pacific
By Raghavendra G Gidadhubli, Vitally Naumkin and Xu Hongfeng
52 pages (2009) ISBN 967-947-303-2
RM 10.00

TERRORISM VS POLITICAL VIOLENCE IN SOUTHEAST ASIA: Trends, Threats and Responses
By Natasha Hamilton-Hart
17 pages (2009) ISBN 967-947-306-3
RM 8.00

HAS JAPAN LOST ITS REVELANCE?
By Eiichi Katahara
12 pages (2009)
ISBN 967-947-305-6
RM 8.00

THE STRATEGIC IMPACT OF A RISING INDIA Prospects and Challenges
By Kishan S Rana
17 pages (2009)
ISBN 967-947-304-9
RM 8.00{jgototop}{/jgototop}